I remember my husband's Gran once saying, 'you lose a tooth for every child'. Back then, I thought it was one of those old wive's tails that get thrown about when you're pregnant, or condemnation of dentistry standards when she was young.
With National Smile Month recently ending, it's a good time to put oral health at the top of people's thoughts again. 
There's a very important link between oral health and a healthy pregnancy. I've previously covered developing a good routine in my article on How To Look After Your Teeth During Pregnancy. I learned the hard way how your teeth and gums could be affected throughout this time and have the fillings to prove it.
But good oral health when you're pregnant isn't just about your teeth, it's about your baby too and there are some very surprising statistics about the link between the two.
How oral health can adversely affect pregnancy
There is now strong evidence to show that poor oral health and gum disease can cause pre-term birth and low birth weights. There is also data to indicate an increased risk of miscarriage.
According to Bliss, 1 in 13 babies in the UK is born before 37 weeks, in the US it's 1 in 10. Premature birth can lead to significant health problems in the future and an increased risk of infant mortality. It's a very depressing figure that we need to reduce as much as we can.
Why does this happen? There are a number of potential explanations including oral bacteria making its way into the amniotic fluid. This bacteria is high in levels of prostaglandin that can trigger labour.
Of course, being pregnant can cause a lot of issues in your mouth, even if you're oral health was previously good. Hormones and increased blood flow can cause gums to become inflamed and bleed, which leaves them at risk of trapping bacteria and developing gum disease. If you're indulging your sweet cravings, excess sugar is also bad for your mouth too.
What can you do to protect your mouth and baby?
If you're planning on having a baby in the future, you're probably already thinking about your lifestyle in terms of having a healthy diet, getting exercise and maintaining a healthy weight. I know that when we were considering starting a family I was taking folic acid for months, cutting out alcohol and everything else I could think of to improve my chances of conceiving and having a healthy pregnancy.
So be sure to include your oral health in this preparation too. Get a check-up at the dentist and get any treatment done that you need. Then when you are pregnant, pay extra attention to your teeth.
In the UK, when you're pregnant you receive free NHS dental care for the duration of your pregnancy and until your baby is a year old. Take advantage of this.
I won't go over my previous article again but there are things you can do beyond brushing and flossing to keep your mouth healthy and reduce the risks of pre-term birth and low birth weight. Keep yourself hydrated, preferably with water. It won't damage your teeth and wash away some of the bacteria in your mouth.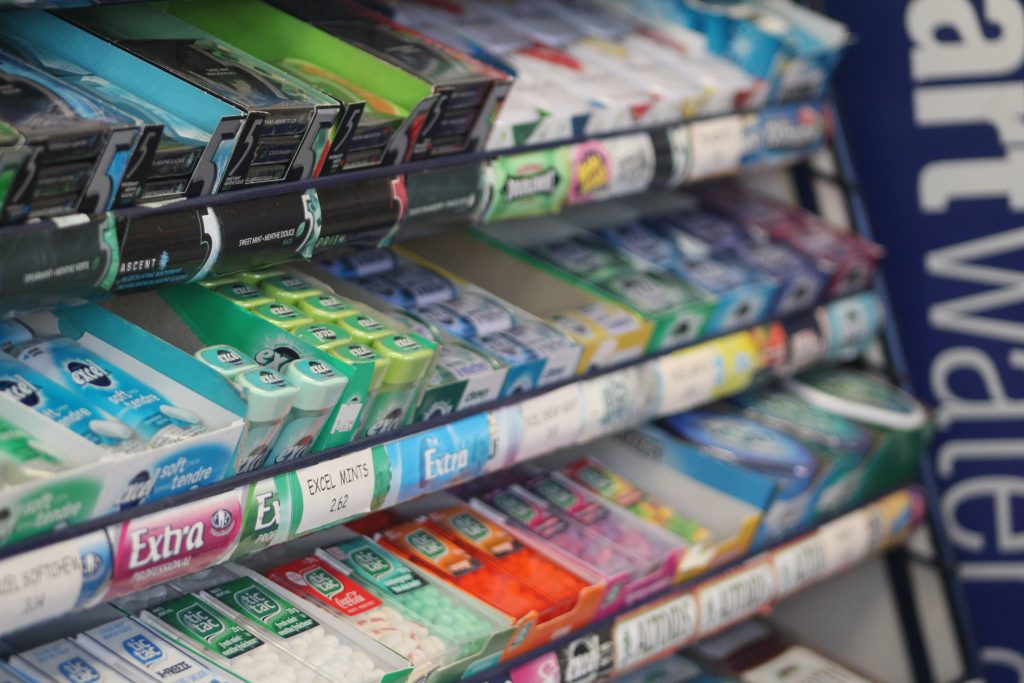 Sugar-free gum should be your best friend too. Not only is the taste great, but mint is also good for soothing your stomach when you're feeling nauseated and clearing your mouth of debris and bacteria after meals.
There's a science to back this up too. A study conducted in Malawi resulted in a 24 percent reduction in pre-term births. The country has one of the highest pre-term birth levels in the world and large sections of the population do not have access to dental care. The sugar-free gum provided an accessible and cheap way to lower the risk and improve outcomes for both mothers and babies. During the study, they chewed sugar-free gum for 10 minutes, once or twice per day.
Definitely keep some in your bag to chew throughout the day. I was one of those pregnant women who had a really dry mouth, so chewing it really helped me in that respect too.