At the end of 2021, we decided to take a little break between Christmas and New Year at Landal Kielder Waterside in Northumberland. With a five-year-old and two-year-old in tow, it wasn't a particularly active holiday, especially as Ava is in that awkward phase of not wanting to be in a pushchair, but not prepared to walk anywhere either.
The weather was awful and it rained heavily for most of the time we were there. Storm Arwen has caused a lot of damage to trees around the site, shutting down a lot of walks and other areas.
We've visited Kielder quite a few times over the years with friends, where we would go fishing and have barbeques. Now we have small kids, it's a different type of visit for us.
The Lodge
We hired a two-bedroom lodge through Hoseasons, choosing a dog-friendly lodge with a hot tub. I was really impressed with the overall standard. The open-plan kitchen and living room area were filled with sturdy, good quality furniture and appliances. There was also a dishwasher and washer/dryer (something which always annoys me about Centr Parcs, where you have to take loads of extra clothes). 
There was a Bose SoundLink speaker, flatscreen TV and a Playstation for entertainment. There was no wi-fi at the lodge, which suited us just fine as we wanted to switch off.
With it being the festive period, there was also a lovely Christmas tree and a bottle of prosecco waiting for us when we arrived. 
The bedrooms were lovely. We had one double room and a twin for the kids. They weren't huge rooms but didn't feel cramped. The mattresses were comfortable and there were also plenty of towels and good quality, soft bathrobes too. 
The only thing which wasn't of a super high standard was the bathrooms. The master bedroom had an en-suite with a toilet and shower, and there was the main bathroom next to the second bedroom. Both were really clean and everything worked but were super basic in terms of the fittings and decoration. It wasn't a dealbreaker but it would have been a nice touch if they were a little more luxurious.
Outside of the lodge was a lovely outside decking area, with a chiminea, garden furniture and a hot tub. The lodge looked out onto the gorgeous woodland and felt very secluded. We used the hot tub at least once a day, and it was a great place to relax and look at the stars. Kielder is a designated Dark Skies area, and when the clouds cleared on an evening, the stars were spectacular.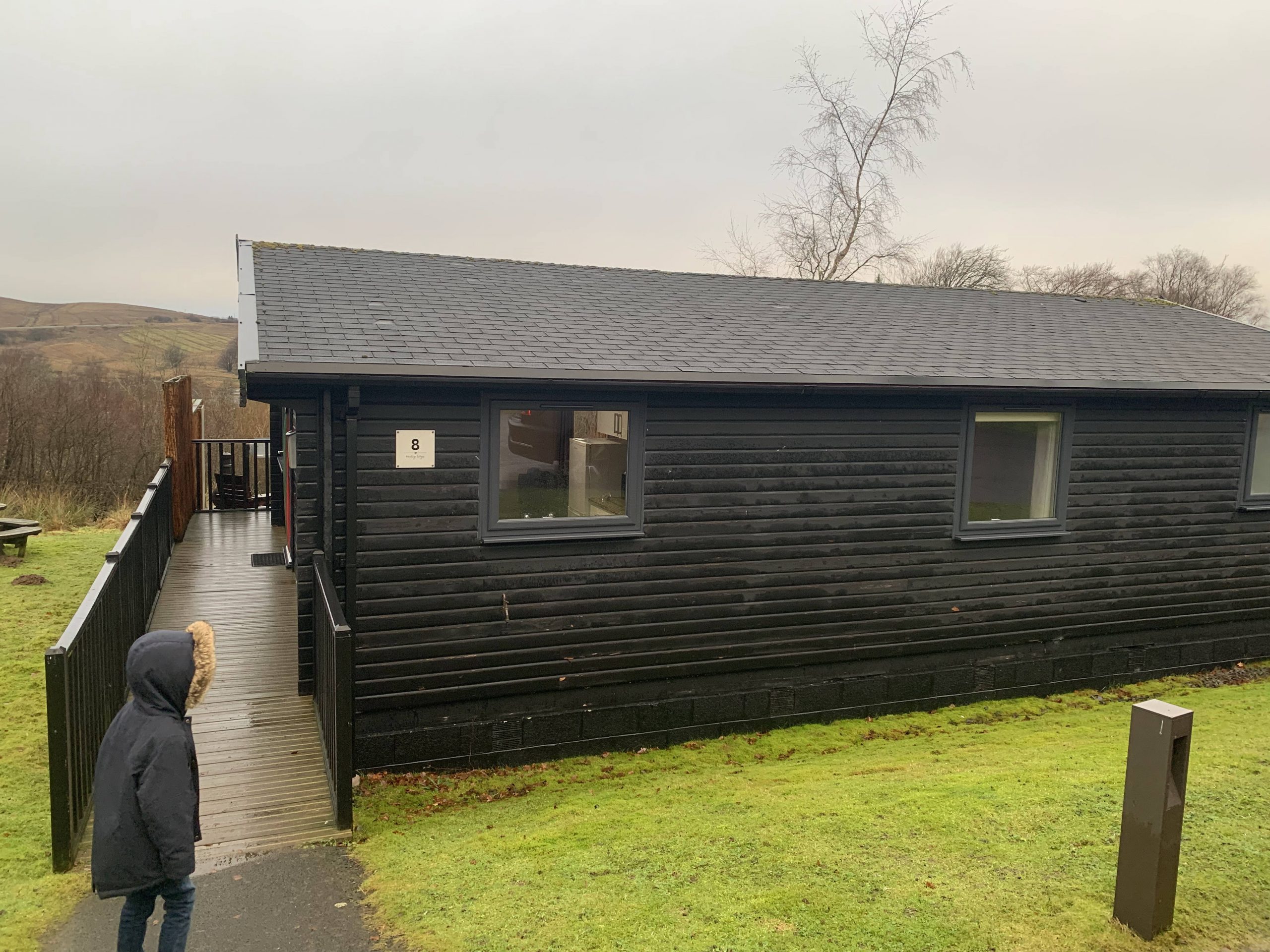 On-Site Facilities
For the time we were at Kielder, we pretty much stayed there the entire time. It was only a short walk to the main facilities which included:
Cafe/restaurant
Shop
Indoor heated pool
Sauna and steam room
Gym
Spa treatments
Snorkelling and Seascooters
WaterWalkerz
Go Juniors (3-7s)
The Games Cabin – including pool tables
The Forest Bar and Kitchen
The Hide Bistro
Wi-Fi access (hot spots)
Archery and crossbow
Walk with trees
Canoeing
Axe throwing
Xplorer
Bike hire
Birds of Prey Centre
Children's adventure playgrounds
Fishing (Mar 9-Nov 10)
Nature activities
Segways
Mini golf and disc golf
Wildlife tracking and pond dipping
24hr shop
Barbecue area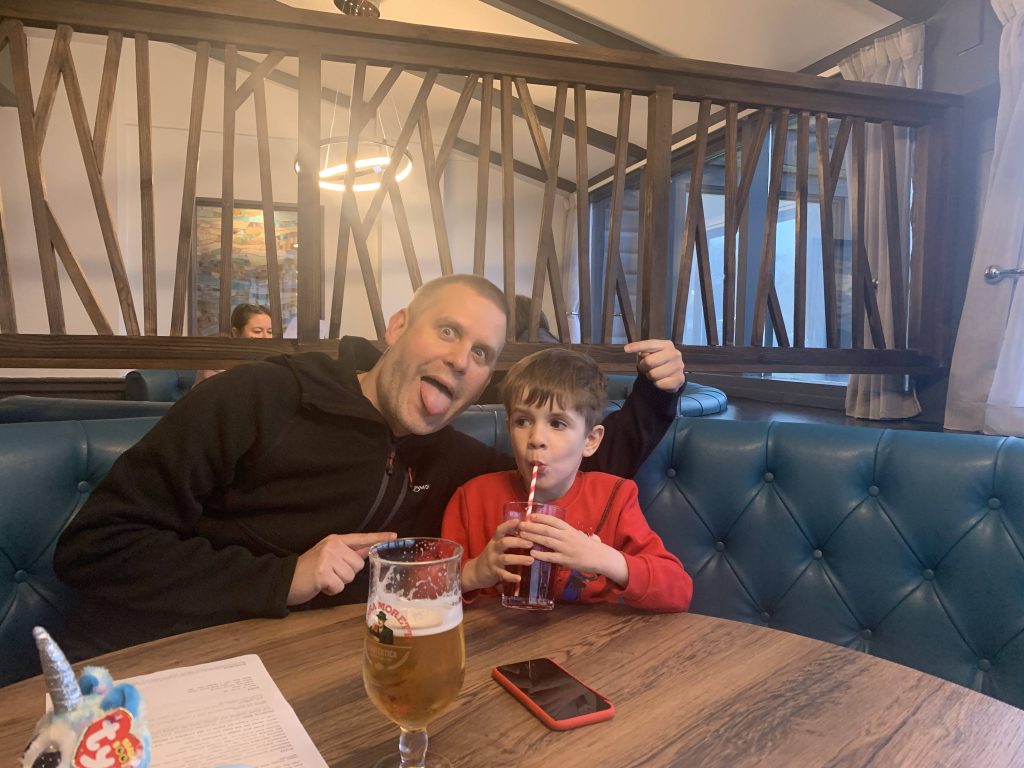 Every day, we'd have either lunch or dinner at the on-site restaurant. We brought some food with us which was leftover from our Christmas shop. As usual, we had bought too much and couldn't eat it all. 
Ordinarily, when we book a holiday like this, we'd bring a lot more food and cook more at the lodge, but because it was a short break, and I was sick of cooking after Christmas, we decided to just eat out more while we were there.
The menu at the restaurant wasn't huge, but all the food was fantastic and the kids loved their range of ice creams. The scampi and chips were especially nice.
The bar/restaurant also had a small soft play area which was an absolute god-send for keeping the kids amused when it was too rainy to stay outside. We were there at least once a day to enjoy a coffee while they tired themselves out.
During our stay, the main restaurant was shut, which I think was due to the time of year but also COVID.
Between our lodge and the main facilities was a games hut. It had a selection of toys for the kids, some play mats, a pool table, air hockey, and a vending machine. There was also a TV in one corner. The kids enjoyed the games hut but we couldn't really do much. The vending machine was broken and so was the air hockey table. We had a few games of the pool but there was only one cue and it didn't have a tip on it. Though we did get a little competitive over some oversized foam dominos.
We didn't use the gym but we did manage to get a booking at the pool. Due to COVID, the booking system meant that there were only 2 families allowed in at any one time. The only slot we could get was an early morning one. I don't know if the leisure area had recently been refurbished but the quality of the pool area and the changing rooms was excellent.
This break was exactly what we were looking for. 2021 had been a hard year for us as it had for many people. We're hoping in the future to have much more active holidays once Ava is fully out of her pushchair and walking further. As it was, we just spent our time relaxing and having family time (and hot tubs). We've already decided to go back to Kielder again during the warmer months so we can really take advantage of more activities and walk more. 
If you have an electric car as we do, there's also a free charging point in the main car park.
Dog friendly
There are lodges that allow dogs, and some which don't. We wanted a true family holiday and didn't want to leave Finn with anyone, so we paid the extra to bring him along. Obviously, the location is perfect for dogs and we met a lot of other Spaniels while we were there. Dogs are allowed in certain areas in the cafe/restaurant too, which meant we could bring him with us rather than having to leave him in the lodge.
Overall, our experience was excellent, with great facilities and friendly staff everywhere we went. We look forward to booking again this year and taking advantage of more of the facilities in better weather.
Further information
Visit Landal Kielder Waterside – https://www.visitkielder.com/